"Outlander" fans were thrilled with the Season 3 premiere on Sunday night. It had been way to long since Claire and Jamie graced our television screens, and now Season 3 is setting up to be epic.
During the premiere episode, titled "The Battle Joined," "Outlander" fans learned what what happened to Jamie Fraser during and after the Battle of Culloden. Jamie is seen lying in a pile of dead bodies with a British soldier on top of him. He remembers flashes of Claire passing through the stones, and then heading to the battle field to fight, and likely die.
Jamie recalls fighting hard until he sees Black Jack Randall. The two men rush towards one another and begin a brutal fight. The two literally fight to the death and wound each other badly. Flash forward a bit and the battle is over, but Jamie and Black Jack still remain, woozy from blood loss and still fighting each other. That is, until Randall falls into Jamie and dies on top of him.
Later, Jamie is picked up by a few remaining living Jacobites, including Rupert. The men take Jamie to a nearby shelter, where they are soon discovered by British soldiers, and told they will be executed in a civil manner. One by one the men begin to be killed, with Jamie lying on the floor. He and Rupert have their final farewell, and Rupert is shot. Later, Jamie volunteers to be next, ready to die and hurting from his injuries. However, when he gives his name, the British soldier in charge, Lord Melton, recognizes him as the man who sparred his younger brother, Lord John Gray's life. Melton then arranges for Jamie to be carted off home to Lally Broch, where Jenny is there to take care of him.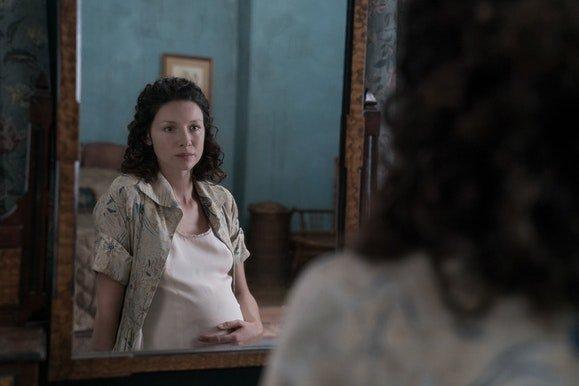 Meanwhile, Claire is in Boston with Frank. The two buy a house and continue their life together. However, Claire is uncertain about her life in the modern world, and has trouble going back to mundane daily tasks. She can't seem to get a feel for the stove, and "Outlander" fans see her begin to cook over the fire, to which one of the neighbor women seems disgusted by.
Later, Claire and Frank go to a social gathering of his colleagues, and Claire is belittled by Frank's boss after giving her opinion on the upcoming presidential election. Claire's not happy living in the modern world, or being cut down for being a woman. She's also not happy to be living without Jamie and Frank knows it. The two get into a huge fight, but all is forgiven when she goes into labor. The pair welcome a baby girl, Briana, and decide to have a fresh start.
"Outlander" fans are eagerly awaiting the episode where Claire and Jamie will be reunited, and can't wait to see their hot chemistry on the screen again. Viewers can watch the show on Starz on Sunday night's at 8 p.m.
[Featured Image via Starz]