The first official Game of Thrones Season 7 trailer has finally been released, and fans are losing their minds over the amazing preview of things to come. The trailer, released by HBO this week, is jam packed full of content and spoiler nuggets to help hold viewers over until the season premiere in July.
So, let's break down the Game of Thrones Season 7 trailer and see what we can find. Right off the bat, newly crowned queen, Cersei Lannister, is heard talking about how she has enemies coming at her from all directions, but is confident that she can defeat anyone who may try to harm her and take the throne. So, who is Cersei talking to as she delivers her speech about her enemies? At first look it seems to be her brother/love Jaime Lannister. However, a later clip reveals that the queen will have more guests who come to call throughout the season. Speculation is rising that perhaps it may be Edmure Tully, or that Jaime and Brienne may be reuniting.
Meanwhile, Dany, Tyrion, and her army will arrive at Dragonstone, which is Danerys' birthplace. Dany takes her place on the throne inside Dragonstone Keep. While it's not the Iron Throne, Dany looks totally badass in the hot seat. In the Game of Thrones Season 7 trailer, viewers see Melisandre watching Dany and her people approach Dragonstone, and she may be the one who opens the gates for the Khaleesi to enter. Dany and Melisandre's meeting could lead to Dany teaming up with Jon Snow in the future, since Melisandre vowed to help Jon rise to power.
Game of Thrones fans also see Jon Snow in Winterfell as the King in The North. His subjects are still loyal to him, as his his sister Sansa Stark and his new right hand man, Ser Davos, who flank him in the Season 7 trailer. However, Littlefinger is already trying to weave a web around Sansa, which may be why Jon is seen choking Littlefinger in the Stark crypt later in the trailer.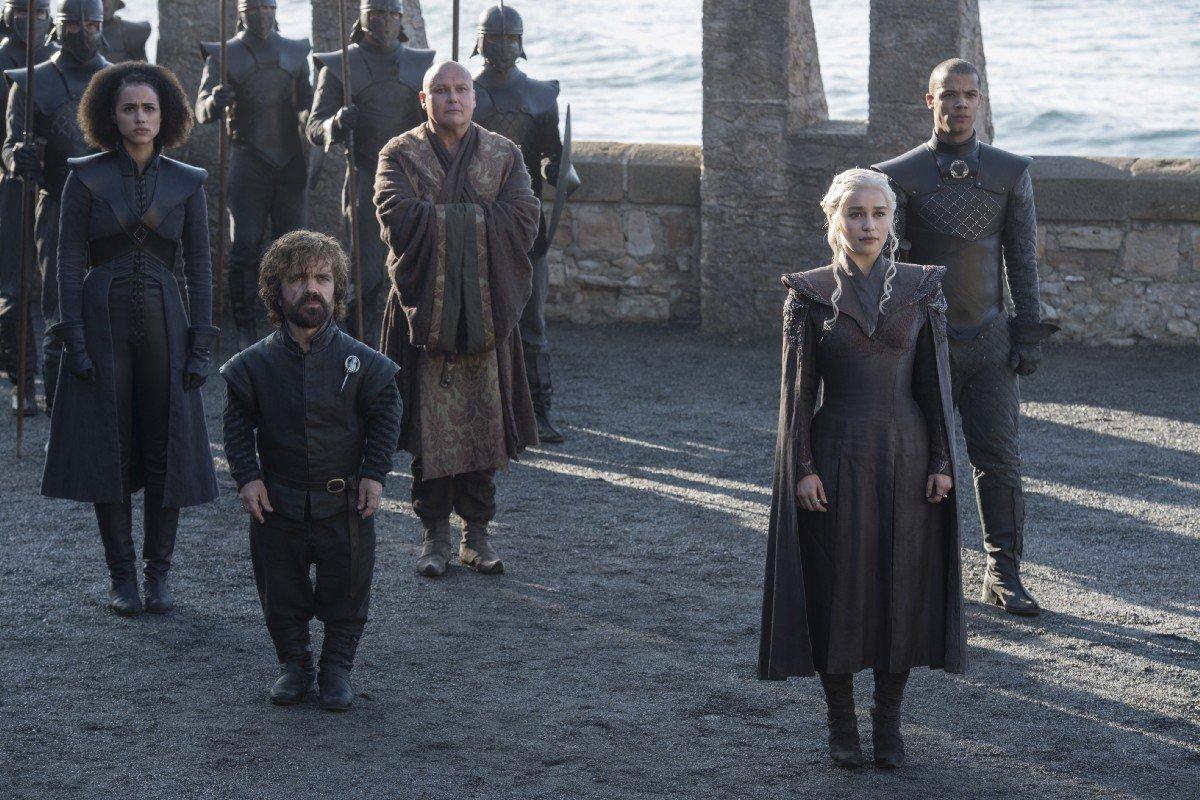 The Game of Thrones Season 7 trailer also features Theon Greyjoy as he watches something burn. Embers fly around him, and it seems that there will be an attack somewhere during the season, and it seems to be that the battle will take place at Casterly Rock. Jorah's mangled looking arm also makes an appearance in the trailer, but not much else is seen about his situation just yet.
Arya Stark is seen making her way through the cold and wintery woods during the Game of Thrones trailer. It may be that she is headed home to Winterfell where she would reunite with Jon and Sansa. Meanwhile, Greyworm and Missandei grow closer, and Yara Greyjoy is seen making out with Ellaria the Sand Snake.
It seems that Game of Thrones Season 7 is going to be very eventful, and the trailer is only scratching the surface of what fans are going to see when the HBO series returns on July 16.
What did you think of the Game of Thrones Season 7 trailer? Share this article and leave a comment below.
[Featured Image by Helen Sloan/HBO]