"Fuller House" Season 3 was officially released on Netflix on Friday, and fans are loving every minute of the new season, which might be the funniest one yet. DJ, Stephanie, Kimmy, and their crazy kids/boyfriends bring a ton of laughs, and so much fun for fans.
"Fuller House" Season 3 starts off with a big musical number, as Max dreams about waking up on the first day of summer vacation. The scene is funny, a bit unexpected, and cheesy, but still fun to watch. When Max wakes up he realizes it's officially summer vacation, and couldn't be happier. Meanwhile, Ramona is ready to spend time with her friends and new boyfriend, Bobby Popko, over the summer, while Jackson is looking forward to seeing girlfriend Lola, and spending the summer "chillaxing" on the couch.
Sadly, Jackson gets a wake up call when DJ tells her oldest son that he must go to summer school to get his history grade up. Jackson is not happy, and when he gets to summer school he meets a tough girl named Rocky, whom "Fuller House" fans later learn is Gia's daughter. Jackson, Rocky, and some other students spend the summer studying and goofing off at the Tanner-Fuller house.
Meanwhile, Stephanie and Jimmy Gibbler are still going strong. Stephanie, who struggles with her current life situation during "Fuller House" Season 3 is trying to get her career, finances, and life in order. Eventually, it leads to Steph heading to the doctor to learn that she has a few eggs that can be harvested in hopes of using a surrogate mother to have a child. Stephanie is forced to choose between sperm donors, but Jimmy insists that he wants to be the baby daddy. Stephanie agrees, which leaves everyone excited.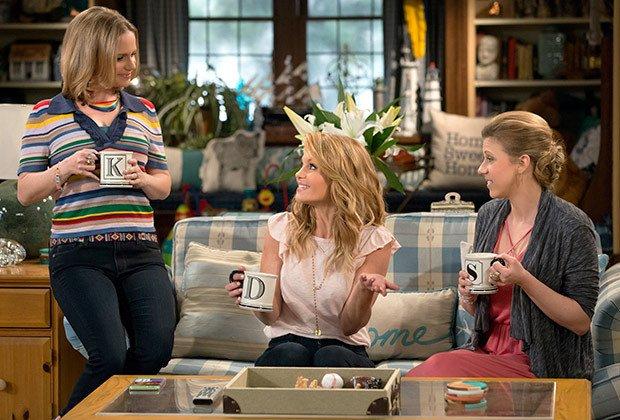 Kimmy and Fernando are also doing well. At the beginning of the season, Fernando reveals that he has purchased Kimmy's childhood home right next door to DJ's house. When Kimmy refuses to move in with Fernando in order to continue helping DJ, Jimmy moves in and the two restore the home to it's former wacky glory. "Fuller House" fans get their first glimpse inside Kimmy's house when the two men throw a dinner party, which seems to be crashed by a ghost.
All the while, DJ and Matt are growing closer and the couple are getting serious. Matt is in love, and finally tells DJ that he loves her. She says it back, and means it. The pair, along with their friends continue to have good times together, and even host a karaoke night, in which Fernando sings "Livin' La Vida Loca," and DJ and Steve do their rendition of "Summer Nights," which leaves Matt and Steve's fiance CJ feeling left out.
Speaking of Steve and CJ, "Fuller House" fans learn that the couple are planning an end of the summer wedding in Japan, and the Tanner-Fuller/Gibbler family all head to Asia in the final episode. On the airplane, Matt tells Stephanie that he's planning to ask DJ to marry him, while DJ (who thinks she's talking to Kimmy) reveals that she still has feelings for Steve, and that she feels like she's losing her soulmate now that Steve's about to marry CJ.
It's a huge "Fuller House" Season 3 cliffhanger. Will DJ ruin Steve and CJ's wedding, and break Matt's heart? Will Stephanie and Jimmy soon be parents? Fans can't wait to find out when new episodes return to Netflix in the future!
[Featured Image by Netflix]